Hello, EVERYBODY in the world !! I'm Johnny.😁Follow @RAINBOW_miyaji
In commemoration of Kouhaku,we'll introduce Elephant Kashimashi's songs from "All Time Best Album THE FIGHTING MAN", one song a day. Let's celebrate the first performance of Elekashi's Kouhaku together, EVERYBODY!!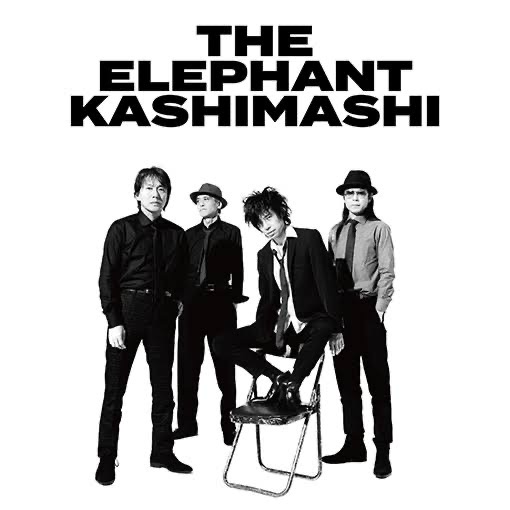 Disc 1 Mellow & Shout
①Koyoino Tsukino Youni
As of 2017 Elephant Kashimashi 's biggest hit. Tomoorrow they will perform this song on the 68th NHK Kouhaku in 2017. It'll be best performance and the white team will win (expected).
②Kanashimino Hate
Re-debut single in Apr 1996. Adopted as a commercial song of Glico Almond Chocolate, and re-released in Nov. Performed on TV show after the earthquake in 2011.
③Shigatsuno Kaze
Lyrics were written at Akabane Danchi where Miyaji lived. Then he wondered "I would die if I made such a song", but this year he selected it as "a song of mine" in the magazine.
④Kazeni Fukarete
Miyamoto said at the 30th tour, "It was a very good song surprisingly when I listened to it again."EVERYBODY spontaneously waves their hands right and left at the FES, imagining the wind.
⑤Yumeno Kakera
The 18th single. No one surpasses Miyaji in creating mellow songs. "Kokorono Mamani" in this CD was an opening song of "Nettoo Koshien" then.
⑥Tomodachiga Irunosa
Before the song starts, Miyaji says "Oi!", and EVERYBODY gushes! Popular song of YAON. In the 30th anniversary tour, the light all around JP was turned off.
⑦Oretachino Ashita
In the demo tape this song didn't start from the hook. Arranged by YANAGIMAN. It took over a year to make it after transferring to Universal Music.
⑧Egaono Miraie
Temporary title was "Namidano (Tear's) Terrorist". Koichi Tsutaya produced and arranged it. After listening to arrangement, Miyaji was moved tears.
⑨Listen To The Music
No words to express this Great Song !!
⑩Kageriyuku Heya
Elephant Kashimashi's first cover song of Yumi Matsutoya. At the time of its release she seemed to come and see their concert at C.C. Lemon Hall (Shibuya Public Hall).
⑪Sakurano Hana, Maiagaru Michio
Young staff said, "Miyamoto san, make a song about cherry blossoms!" He thought why, but this masterpiece is popular among fans.
⑫Hanauta ~tooi Mukashikarano Monogatari~
At 30th anniversary tour Miyamoto said, "Unfortunately this liquor isn't sold at the supermarket anymore, but this song remains."
⑬Atarashii Kisetsue Kimito
37th single produced by Seiji Kameda. Tough to write lyrics. Familiar song at New Year Live cuz the title means "To new season with you".
⑭Zureteruhougaii
The movie "Nobou no Shiro (The floating castle)" tie-up. Miyaji was very impressed by this movie before making the song. Must-see MV guitar riff is so cool.
⑮Yumeo Ou Tabibito
Tie-up song of Meiji corporate CM. At the time of its release, Miyaji listened to this song & "i am hungry" instead of an alarm clock every morning.
Disc 2 Roll & Spirit
①Gustroger
Lyrics were improvised by Miyaji while recording. He asks himself, and sometimes comes to a conclusion at the backstage of the concert.
②Dede
 Elekashi's everlasting debut single.
③Dorei Tengoku
Roars in the concert full of men at that time. Elephant Kashimashi's expression of this song is overwhelming. Ascension at every live, with my eyes wide open.
④Hana Otoko
1st "Otoko(Man) series". 30 years later, even now, when Miyaji sings it, his eyes glisten as if he is possessed by himself in 1988 concert after the debut.
⑤Tatakau Otoko
In the CM of canned coffee, this song is played while Hideo Nomo pitches a ball. Miyaji, a fan of him, said "I was so moved" at 30th Anniv tour.
⑥so many people
Co-produced by Miyaji and Hajime Okano, who is a producer of L'Arc~en~Ciel and a bassist. This programming was made when Miyaji was pumped up.
⑦Call and Response
Well…Everybody may already know this, but "Sentence of Death" from the MC (Miyaji) is one of the highlights at the concert.
⑧Shochuu Mimai - Yuuutsuna Gogo
Recorded in NY after 9/11attack and produced by Takeshi Kobayashi. It also signifies summer greetings to the fans.
⑨Ore No Michi
This album returned to the ROCK band sound !! Do Do Do Do Do Do 〜🎶Do Do Do Do Do Do 〜🎶Do Do Do Do Do Do 〜🎶Do Do Do ~ Do Do Do ~🎶
⑩Rekishi
Miyaji depicts the life of Ogai Mori, whom he adores, as man's way of life. First, "Rekishi-Zenya(uncompleted lyrics)" was sung at RIJ FES in Aug 2003.
⑪Daichino Symphony
The lyrics were well-considered until 2 hours before the deadline. Miyaji's singing stands out with a simple sound.
⑫Destiny
46th single released in June 2014. Bittersweet lyrics. Beautiful & remarkable strings. A theme song of the drama.
⑬RAINBOW
Miyaji overcame his age and sickness, and opened up NEW ROCK.
⑭

Namida
Included in 7th album "Tokyo no Sora" in 1994. Miyaji plays acoustic guitar and sings. Impossible to listen w/o tears.
⑮Fighting man
Filled w/ Elephant Kashimashi's soul. Most exciting song at the concert. Passion and fierceness of youth.
ReTweet & Favorite,TNK SOOOOOO MUCH‼️EVERYBODY🐘
Johnny😁
【Related article】